Vital Pause: Active Rest, Restful Action
A weekend dedicated to deep replenishment

With Jennifer Piercy and Misha Butot
Sat & Sun, April 29 & 30, 2017, 9:30am-3:45pm @ Roundhouse Farm in Saanich
"To lift something
you already had
and set it down
in a new place.
Awakened eye
seeing freshly.
What does that do
to the old blood moving
through its channels?"  ~ Naomi Shihab Nye
This 2 day non-residential retreat is for you if you are:
Looking for effective ways to nourish and replenish on all levels in the midst of a busy life – time and permission to deeply rest, explore and listen inwardly, follow your longings, re-connect with your soul, re-balance and increase resiliency
Longing to dive into something powerful, immersive and inspiring, while also being nurturing, short, sweet, catered, and closer to home
Wanting to spend a weekend steeping in silence, digital detoxing, free from distractions and demands, cultivating self-healing capacities
What you can expect:
A beautiful, quiet, contemplative space surrounded by nature
Nourishing organic wildcrafted vegetarian lunch by Nature's Chef
Personalized attention – limited spaces available, with 2 gifted guides.
Guidance, discussion and support to feed mind, body and soul.
Self Compassion Re-charge – Nourishment and Neuroscience
Sacred Sleep and Dreams: Awakening isn't only about being awake 🙂
Honoring flavors of Tired – seasonal, physical, mental, emotional, energetic, and beyond
Transitioning to and honoring rest without guilt in daily life, harnessing rest in the midst of activity
Time to linger in restorative poses, sequences, and breath awareness
Meditation: sitting meditation, walking/earthing meditation, and Deep Yoga Nidra for integration, insight and healing
Open to students and teachers of all levels, and will be of nourishing benefit to any sincere practitioner.
"Re-vitalizing and healing…having the luxury of time to be reflective, to remember myself, and trust that person" ~ Amber
"This weekend allowed me to really listen to my body and feel how tired I am. The space…both the actual space the retreat is held in but also the physical and mental space created over the last couple of days. It was the perfect way to unplug and replenish myself. It felt like the perfect balance between practice, information and free time. I have lately been having difficulty feeling self love/compassion towards myself and I feel like I have been bathed in it all weekend. Thank you for holding the space and allowing me to be there just as I am." ~ Alison
Sample Schedule:
9:30-10am: Meditation practice
10-11:45am: Morning Restoratives and Yoga Nidra
11:45-12:30pm: Talk/Discussion:
Neuroscience of Self-Compassion
Sacred Sleep and Dreams
12:30-1:30pm:  ~ Lunch ~
1:30-2pm: Walking/Earthing Meditation & Self Inquiry Practice Options
2-3:30pm: Afternoon Restoratives & Yoga Nidra
3:30-3:45pm: Completion & Closing Blessing
If you don't want to use paypal, you can also sign up via cash, cheque or e-transfer.

Contact Jenn here to reserve your space offline.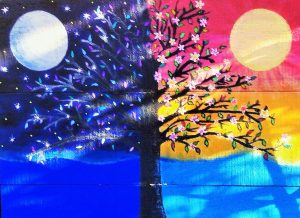 "Great opportunity to give yourself permission to BE…." ~ Caroline
"An absolute joy to marinate with these beautiful souls" ~ Cheryl
"If you want to be completely held, and allow yourself sacred space, and experience deep peace, these are the ladies you want to see. Self love is treating yourself to this retreat – a must!" ~ Tammy
"A great way to focus, practice self compassion, and re-charge energy in a peaceful, cozy space" ~ Cathy
"So nourishing and deeply restorative – I think most of us need this more than we realize!" ~ Carolyn
"This experience has re-established a sense of deep well being, love and soulful nourishing – Beautiful!" ~ Mara